In the ever-evolving realm of mobile app development and marketing, the spotlight often falls on innovative strategies that drive app visibility, user engagement, and downloads. Amidst this dynamic landscape, aBooster has emerged as a trailblazing force, earning a coveted spot among the top App Store Optimization (ASO) companies in a prestigious ranking by Business of Apps. This recognition stands as a testament to aBooster's unwavering commitment to enhancing app success and propelling brands to new heights.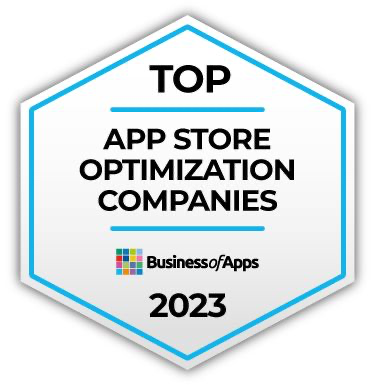 A Trail of Excellence
The journey to being listed as one of the top ASO companies in Business of Apps' prestigious ranking is a testament to aBooster's dedication, expertise, and transformative impact. From its inception, aBooster has consistently pushed the boundaries of app optimization, helping businesses of all sizes achieve their app-related goals.
Understanding App Store Optimization
App Store Optimization is a nuanced strategy that involves fine-tuning various elements to boost an app's visibility, attract the right audience, and drive organic downloads. ASO encompasses optimizing keywords, app title, descriptions, screenshots, icons, and even ratings and reviews. The goal is to secure higher rankings in app stores' search results and categories, ultimately attracting users who are genuinely interested in the app's offerings.
Key Factors Behind aBooster's Success
Expert Team of ASO Professionals: At the heart of aBooster's triumph is its team of seasoned ASO professionals. Their in-depth knowledge of app ecosystems, algorithms, and user behavior has consistently yielded exceptional results for clients.
Tailored Strategies: aBooster understands that every app has unique characteristics and goals. They craft personalized ASO strategies that align with an app's target audience, competition, and market trends.
Data-Driven Approach: Precision is paramount in ASO, and aBooster's reliance on data-driven insights sets them apart. By closely analyzing user behavior and market trends, they refine their strategies for optimal performance.
Holistic Optimization: Beyond optimizing textual elements, aBooster emphasizes the visual aspects of an app's presentation. Attention-grabbing icons, compelling screenshots, and captivating videos contribute to higher conversion rates.
Continual Adaptation: The app landscape is dynamic, with algorithms and trends constantly evolving. aBooster's agility in adapting to these changes ensures that their clients maintain a competitive edge.
Proven Results: The Business of Apps ranking is a testament to aBooster's consistent delivery of tangible results. They have a track record of catapulting apps to higher rankings, driving organic traffic, and fostering increased user engagement.
What This Recognition Means
Earning a spot in Business of Apps' prestigious ranking of top ASO companies is more than an accolade; it's a testament to aBooster's dedication to excellence. This recognition showcases aBooster's ability to navigate the intricacies of app optimization and position their clients' apps for success. It reinforces their status as a trusted partner for businesses seeking to maximize their app's potential in a competitive digital landscape.
In conclusion, aBooster's inclusion in the elite ranks of top ASO companies by Business of Apps is a testament to their unwavering commitment to innovation, expertise, and driving app success. As they continue to pave the way for transformative app optimization strategies, businesses can confidently look to aBooster for unparalleled guidance in achieving their app-related goals.